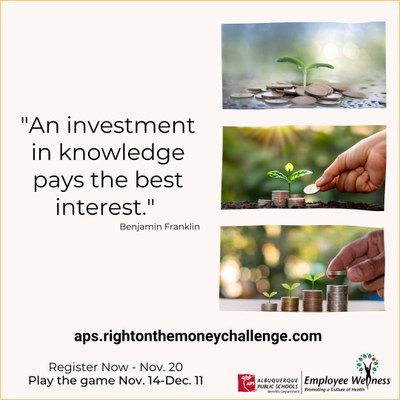 November 2022 Employee Wellness Newsletter – Albuquerque Public Schools
Job : October 31, 2022
November 2022 Employee Wellness Newsletter

November Right on The Money Challenge, monthly APS webinars, and other wellness trends in the news.

APS Employee Wellness Programs and Events
APS Employee Wellness offers many free programs to help all employees (regardless of benefits coverage or full/part-time status) reduce their risk of disease, achieve their lifestyle and weight loss goals as well as managing stress and mental health issues.
Participate in the challenge of the right to money!
According to a 2022 Wellbeing Barometer survey, 72% of American employees are stressed about finances that have negatively affected mental and physical wellbeing as well as productivity. Finances are also one of the main causes of marital/partner conflicts.
Most of us could define financial well-being as the ability to meet current and ongoing financial obligations without worrying about where the money is coming from. Intrinsically, we all want the ability to make choices that also allow us to pay our bills and enjoy life.
Financial literacy is one of those gray areas where our knowledge about debt, loans, credit, investing, and saving depends on how and where we were raised and what we learned. Like many things that embody our total well-being, money matters are not always intuitive and simple concepts can become too complicated. However, money plays a major role in our well-being and therefore our disease.
This is why we are launching the Just on the money Challenge.
This is a virtual challenge that makes the sometimes daunting task of money questions fun!
Do you have questions about – Credit – Loans – Investments – Taxation?
Earn virtual money by learning about the topics most relevant to your life stage and financial interests. Learn actionable skills that you can bring to the bank in real life!
The virtual challenge runs from November 14 through December 11, and APS Employee Wellness will be awarding raffles in the categories below:
2-Week "Silver" Undergraduate Graduates
3rd and 4th week "Double Your Money" Round graduates
"Sum Money" Completers and More!
If you have any questions, contact Employee Wellness at [email protected]
New monthly webinars
Each month, APS employees now have access to a variety of wellness webinars. Check in and receive the recording for on-demand viewing at a time that suits you. All information can be found in Employee Wellbeing Event calendar. The cadence is set each month and the topics change.
Virtual and email wellness opportunities
On-site wellness
Short wellness presentations for school staff and APS departments. We can adapt to your needs and adapt the time ranges from 15 to 60 minutes. Some topics include:
Just the Basics – APS Wellness Benefits and Resources
Stress, burnout and resilience
Social well-being
Sleep
Nutrition
Financial well-being
Ergonomics and musculoskeletal health
Understanding health and medical consumerism
Program

Pet Shop

!
This is for APS employees. If you would like to offer your staff or department a few hours of anti-stress therapy, complete this application form. Please note that accommodations must be made for any colleagues allergic to dogs.
New! Group Classes Downtown/Alice and Bruce King Complex
Class schedule
Monday (virtual) 6:00-6:30 a.m. – Sunrise Yoga link to join is in APS Employee Wellness Event calendar.
Monday (in person) 4:45 p.m. – 5:30 p.m. – Gentle Vinyasa Yoga.
Thursday (in person) 4:45 – 5:30 – BodyBalance – This is a fusion of bodyweight strength, yoga sequencing, flexibility and core. We mix traditional bodyweight training movements and yoga sequences with music, tempo and timing.
About the courses
In-person group exercise classes are held at the City Center / Alice & Bruce King Complex.
In-person classes are 45 minutes long and all skill levels are welcome.
The courses are free for APS employees.
Questions
If you have any questions, contact Becky MacGregor at [email protected]