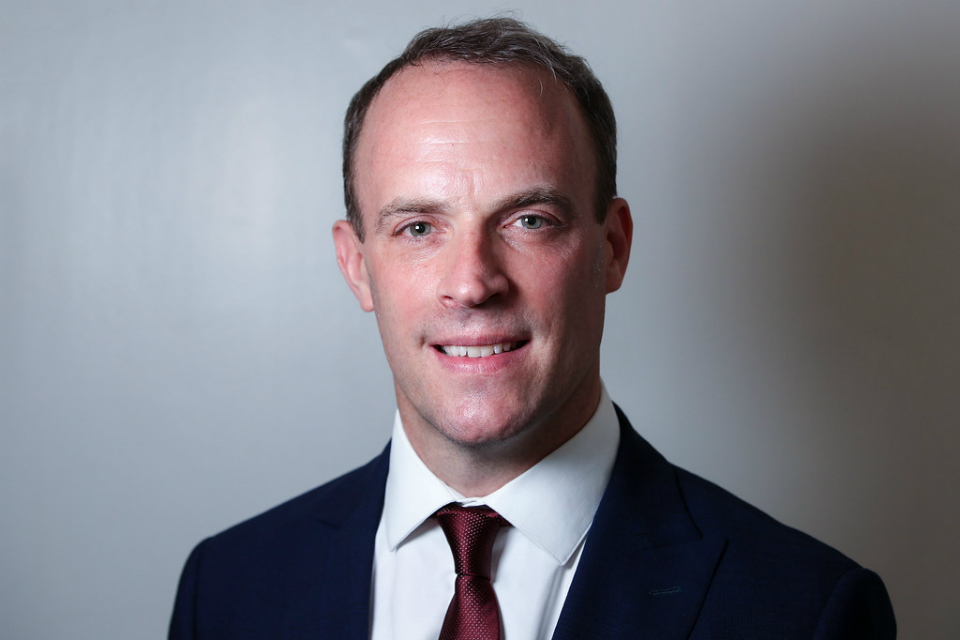 Deputy Prime Minister attends closing ceremony for new Glen Parva prison
Watch the Deputy Prime Minister's speech below:
Speech by Secretary of Justice and Deputy Prime Minister Dominic Raab
I am really happy to be here for this important step of the project, which has lasted more than five years. I know my friend Alberto Costa MP and the Blaby Council were instrumental in launching it and continue to be huge supporters.
I want to thank everyone involved for keeping the project on track, despite the enormous challenges associated with the COVID-19 pandemic.
The development here at Glen Parva has been part of the most ambitious construction program in over a century. The government has allocated £ 3.8 billion to build six state-of-the-art prisons and expand other sites across the country, so we can protect the public from dangerous criminals and reduce crime.
The huge investment will create up to 18,000 additional and up to 2,000 temporary prison spaces, giving us more flexibility as our stricter sentencing rules come into effect and as we move forward. backlog of courts.
1,700 of those locations will be here at Glen Parva.
And the work done here helps us learn lessons, so we can design better prisons across the country.
You will have seen coverage this week of COP26, the United Nations climate change conference, which the UK is hosting. The state-of-the-art methods used to build the site here at Glen Parva mean that the construction will have much less impact on the environment than previous prison constructions.
In fact, many of the materials used to bring this project to life come from sustainable and recycled sources.
It doesn't just make the site more environmentally friendly, it also makes the project more profitable, so it's better for the taxpayers.
The design builds on efficiency gains we have made at other prisons like HMP Berwyn in North Wales which had a 23% reduction in carbon emissions compared to older parts from prison.
And we'll take what we learn here to make sure the next four prisons we build, starting with Full Sutton near York, emit around 90% less CO2. And eventually, these sites could be zero carbon.
What will be offered at the prison
But while prisons will have less of an impact on the environment, they will have more impact on reducing crime – by putting the goal first in everything they do.
Because prisons shouldn't just contain cells for offenders to spend their days in, waiting for their sentence to end so they can resume criminal life.
It would be a waste of their time and taxpayers' money.
Prisoners should spend their sentence working to get their life back on track, get rid of any drug or alcohol addiction, and engage in meaningful activity that will help them achieve successful release and change their lives.
That's what the prison will do here in Glen Parva.
In fact, we have engaged with offenders, prison officers and charities and used academic data and research to design a cutting edge environment that will support offenders every step of the way.
First with education.
The new prison will be the most technologically advanced in the field, with digital in-cell technology, so that offenders can take full advantage of education and training opportunities.
This would allow them to work on basic skills like math and English, but also to participate in professional courses, for example, in computer science and engineering.
Inmates will be able to keep these skills and accomplishments in "digital backpacks" – as they will at HMP Five Wells – so that what they study inside can be used outside the prison.
Second, with huge training workshops, the prison will ensure that offenders have every opportunity to acquire and develop new skills in areas such as carpentry, plumbing and masonry.
Together, this education and training is crucial.
Because it makes offenders more employable.
If they have a job within twelve months of release, they are up to nine percentage points less likely to reoffend. Also, we have about a million vacancies right now, so making sure offenders can find jobs means we can help address labor shortages in the economy.
I hosted a summit with employers a few weeks ago to discuss how we can build better links between prisons and local businesses.
I want us to learn the lessons already from the schemes that do it so brilliantly in the Detention Unit. Like at HMP High Down, where the prison warden goes out of his way to ensure that offenders can work at a call center run by Census Life.
These prisoners don't just learn new skills
They experience what it is like to have responsibilities and to earn a salary – some of them for the first time.
As soon as the doors are locked, I want to see the prison here in Glen Parva make similar connections with local businesses.
So that he can look at the skills gaps in Leicestershire and start training offenders accordingly.
Third, the prison will be able to help offenders deal with any mental health or addiction issues that might prevent them from getting back on their feet.
In fact, we recently started testing technology in prisons that means offenders can get help from medical professionals through virtual appointments, making it easier and faster to access diagnosis and treatment. And finally, the prison will ensure that offenders have the support they need to be successful in their release.
This will include maintaining ties with their families and ensuring they have stable housing to go to.
In-cell technology will allow inmates to stay in touch with a small number of important contacts, so that they can try to maintain some level of family or social support throughout their stay inside, which will be there to help. them when they leave.
Thus, the prison under construction will bring together all the key elements of rehabilitation that we need to reform offenders.
They won't waste their time indoors.
Every moment will be devoted to a useful activity, aimed at equipping themselves and allowing them to seize the second chance to go straight, to improve their life and that of their family and to make a positive contribution to their community.
It's the most sustainable way to reduce crime in our country and it's what we design and build at the state-of-the-art facility in Glen Parva.
Benefits for the local community
To demonstrate what is possible here, forty-seven ex-offenders and day-release prisoners were involved in the construction project – learning new skills and gaining work experience.
And the project brings a series of other benefits at the local level.
£ 68million has been invested in the local economy as part of the construction.
Almost a third of that money – £ 18million – has gone to local small and medium-sized businesses, and there will be a lot more local investment before the project comes to fruition.
When it is operational, there will be more than 600 jobs available for the local population at the prison. Most of them will be prison officers, but there will also be opportunities in health, education, training, maintenance and administration.
Thus, it has the potential to have a positive impact on the region.
Close and name the prison
So in closing, let me say a big thank you to everyone who participated in this project.
We look forward to working with local councils, Lendlease, our suppliers, the local community and others to get it up and running by Spring 2023.
Today we are calling for a new name for the prison – one that best reflects the region.
This new prison construction is an important part of our mission as a government and as a country, to build back better – to beat crime and change the lives of offenders, so that we can make our streets safer and our local communities stronger.
Thank you.